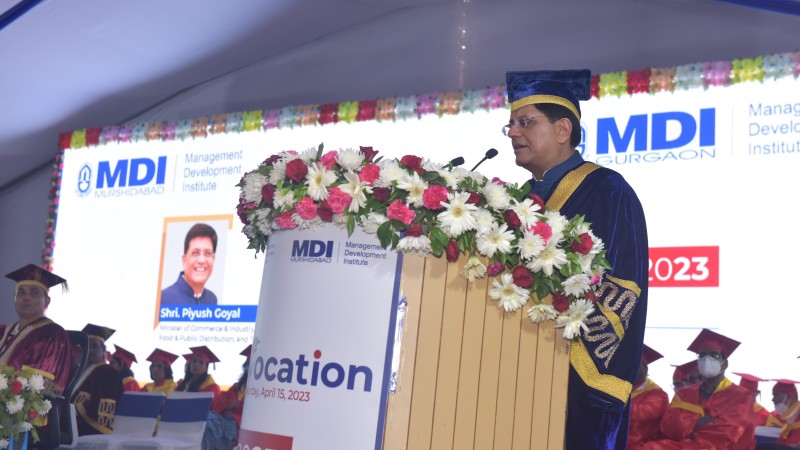 714 students receive their diplomas in the joint annual convocation of MDI Gurgaon and MDI Murshidabad
April 15, 2023 | 10:00 AM
Management Development Institute Gurgaon and Murshidabad jointly celebrated Convocation 2023 at MDI Gurgaon campus on 15 April 2023. The convocation ceremony was conducted under the revered presence of Shri. Piyush Goyal, Minister of Commerce & Industry, Food and Public Distribution, and Textiles, who presided over as the Chief Guest.
The joint Annual Convocation was also graced by the Chairman, Shri Rajnish Kumar, MDI Board of Governors, Members of the Board of Governors, Acting Director, MDI Gurgaon, Dr. Sangeeta Shah Bhardwaj, Director, MDI
Murshidabad, Dr. Atmanand, faculty, students, parents, and distinguished guests. From the batch of the academic year 2021-2023, a total of 556 students from different Post Graduate Programmes including 7 Fellow Scholars received their diplomas from MDI Gurgaon. The institute also awarded 21 medals to meritorious students. MDI Murshidabad conferred diplomas on 158 students from its PGDM programme and 5 medals.
Shri. Piyush Goyal, Minister of Commerce & Industry, Consumer Affairs & Food & Public Distribution and Textiles, Govt. of India, graced the Convocation Ceremony, 2023 of MDI Gurgaon and Murshidabad by his presence on its 50th year. He celebrated the diversity of students in MDI and correlated it to our Nation's heterogeneity. He applauded the fact that a better proportion of female leaders are coming forward who will go on to be future leaders, entrepreneurs, innovators, and change-makers for a prosperous and developed India, a vision of our PM Narendra Modi to be accomplished by 2047.
He emphasized the fact that the whole world is looking forward to India's youth fueling the growth engine of the world in the coming days. He added how India has always been at the forefront to help any nation in times of need.
While sharing his thoghts with the students he quoted the very famous dialogue from 3 Idiots movie, and emphasized the importance of being worthy and success will follow and not the other way around. He also urged the future leaders to focus on collective prosperity and inclusive growth while mentioning that World has enough for everybody's need but not for everybody's greed.
He mentioned that the real world is crowded with the VUCA environment and how the education from MDI might help the students to handle those uncertainties and challenges through vision,understanding, clarity and agility.He highlighted the fact that academic curriculum mixed with India's heritage and culture, noble virtues like empathy, sensitivity, concern, and care will lead to a sense of responsibility, a spirit of collaboration and competition, and a sense of gratitude and unity. He adds that inculcating such discipline will enable the budding youth of today to evolve into future leaders, and value creators for society and who he firmly believes will contribute immensely to Nation building.
He applauds the fact that MDI was able to imbibe the best of both, the domestic and international, academic worlds through its various exchange programs. He also points out the importance of the vast alumni network, which was recently registered as a society, for a better learning experience. He also wished that MDI engages more with both private and government so that meaningful work can be done on sustainability, startup ecosystem, ESG, and policy development for the future which includes ease-of-doing-business, low-cost modern solutions for farmers and indigenous industry.
In his concluding remarks, he encouraged the parents to motivate their children to be bold, take risks, experiment with various opportunities, and be a part of their journey as he believes failures are not bad, they are just stepping stones to success.