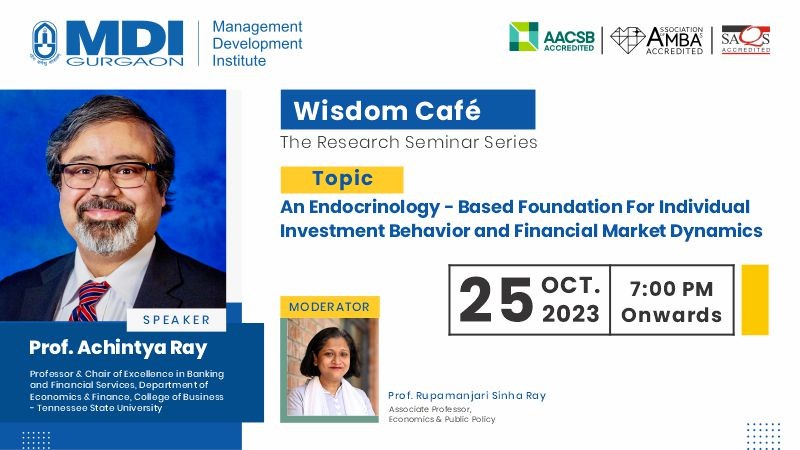 An Endocrinology-Based Foundation For Individual Investment Behavior and Financial Market Dynamics
October 25, 2023 | 07:00 PM
Join us for the upcoming Wisdom Café on yet another fascinating topic: 'An Endocrinology-Based Foundation for Individual Investment Behavior and Financial Market Dynamics'. We are proud to host our keynote speaker, who is joining us all the way from Tennessee (U.S.A.) - Prof. Achintya Ray, Professor & Chair of Excellence in Banking and Financial Services (Department of Economics & Finance), College of Business, Tennessee State University.
Date:25th October 2023 (Wednesday)
Time: 7 pm IST (8:30 AM Nashville Time)
Sharing session's preface here - Endogenous steroids have been linked to individual financial performance, risk-taking behavior, and tolerance for market variability. Adjusting for self-selection into financial professions, choice of investment portfolios, and prevailing norms of market-based returns and compensation, one may look at the evolutionary neurobiological mechanisms of endogenous steroids and their impact on financial market dynamics. Furthermore, Prof. Ray will discuss the harmful impacts of an endocrine imbalance on cognitive functioning and rational decision-making, which can also have profound implications for investment decisions. Lastly, Prof. Ray will shed light on the unappreciated role played by nutrition in shaping the performance of our endocrine system and its impact on mental health and financial management, especially as it relates to the microeconomic foundations of modern macroeconomics. The session will be astutely moderated by Prof. Rupamanjari Sinha Ray (Associate Professor, Economics & Public Policy).