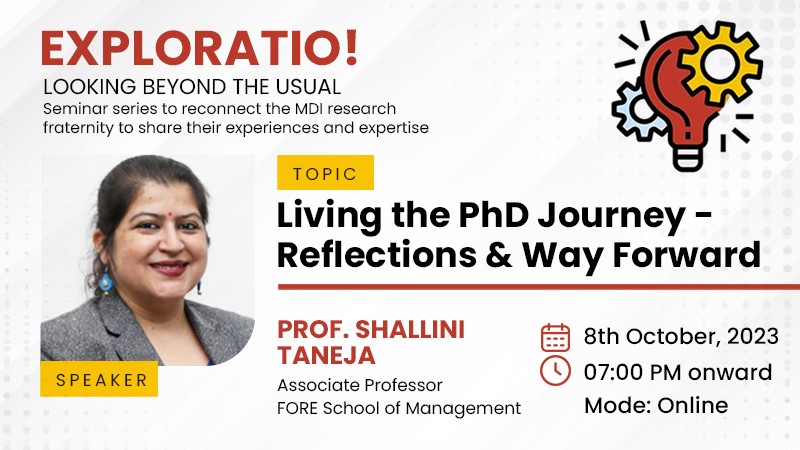 Living the PhD Journey: Reflections & Way Forward
October 08, 2023 | 07:00 PM
MDI's Exploratio team has invited Prof. Shallini Taneja, Associate Professor, FORE School of Management, as speaker on the Theme: Living the PhD Journey - Reflections & Way Forward.
Prof. Shallini Taneja has 17 years of experience in teaching, research and industry. She is a fellow from Management Development Institute (MDI), Gurgaon. She is currently the Chair-Economics & Business Policy Area and Prof-in-charge, Center for Sustainable Development (CSD) at FORE.
Prof. Shallini shall be sharing her PhD journey, the challenges encountered and how the challenges were confronted. She also will speak on her journey post-PhD sharing insights on how to enrich career beyond academic life into research, consultancy, government assignments and alike, by leveraging social networks. Overall, the session is expected to be quite insightful for all FPM scholars and help them to strategize their pre and post PhD journey effectively.
The session will be held on October 8, 2023 I 07:00 pm onwards.