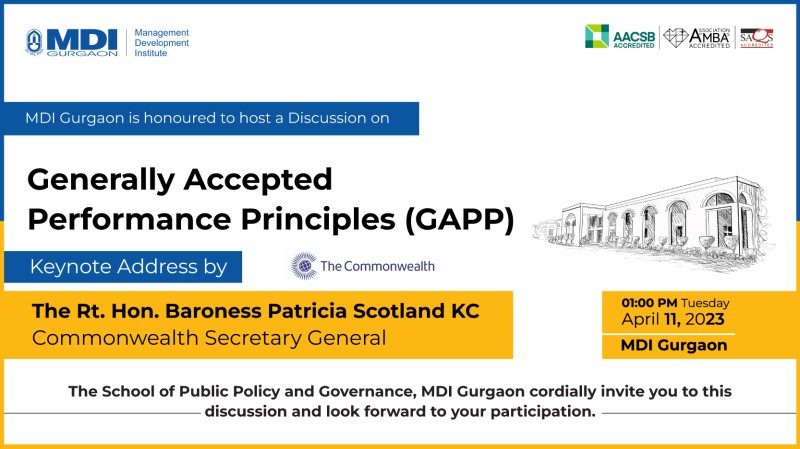 MDI to host a meeting on the theme - Generally Accepted Performance Principles (GAPP)
April 11, 2023 | 01:00 PM
The Management Development Institute, Gurgaon is honored to host the Commonwealth Secretary General, Rt Hon Baroness Patricia Scotland KC, she will deliver the keynote address at the meeting of India-based Commonwealth High Commissioners on April 11, 2023 (at 1 PM IST).
This meeting will discuss the Generally Accepted Performance Principles (GAPP) approved by the Heads of Civil Services and Cabinet Secretaries of 54 Commonwealth countries, including India. Leading up to this meeting, these principles had been discussed and validated by some 2000 senior officials from 54 countries of the Commonwealth, who attended a series of 5-day Commonwealth Advanced Virtual Training Programmes on Government Performance Management during 2021-22. The discussion on GAPP will be led by Prof. Prajapati Trivedi, Distinguished Professor, MDI Gurgaon, and Commonwealth Secretary General's Special Envoy for SDG Implementation. The session will be chaired by Prof. Luis Franceschi, Assistant Secretary General of the Commonwealth. The Chairman, Board of Governors, MDI, and India-based Commonwealth High Commissioners will be joining this meeting. All faculty, decision-makers, and students working on public policy management are welcome to join this landmark event.
For more information, please see the Programme Schedule.