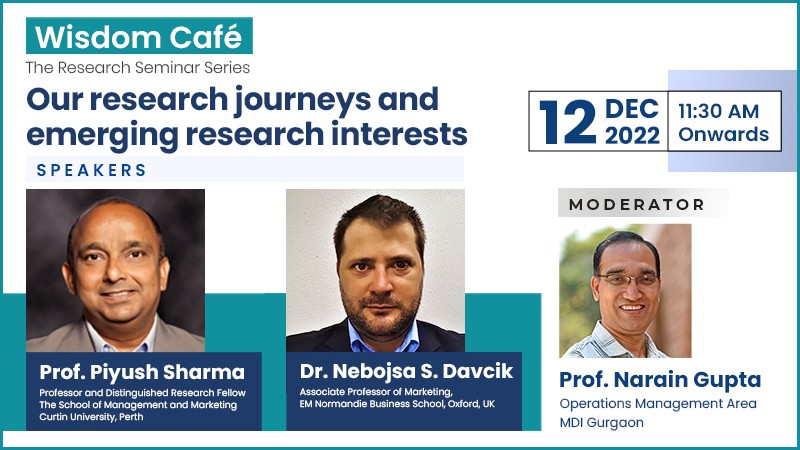 Our research journeys and emerging research interests
December 12, 2022 | 11:30 AM
In the next research seminar to be held on 12 December 2022 at MDI Campus, the speakers will share their experiences of transitioning from a senior business leadership role to academia. They will discuss some strategies on how to identify topics with high potential to make an impact in the marketing discipline and how to develop high-performance research teams.

Piyush Sharma is a Professor and Distinguished Research Fellow in the School of Management and Marketing at Curtin University in Perth. He is ranked among the top 0.2% of researchers in the world across all fields of research and the top 60 business researchers in the global P-rankings based on publications in ABDC journals since 2013. He was also recognised as the only Rising Star from the marketing area among Australia's Top 40 researchers across all disciplines in 2019. He has more than 30 years of professional experience, almost equally divided between industry and academia, and has worked in India, Singapore, Hong Kong, and Australia.

Dr. Nebojsa S. Davcik is an Associate Professor of Marketing at the EM Normandie Business School, Oxford, UK. He received his Ph.D. in Economics & Management from the University of Padua, Italy. Dr. Davcik published in leading academic journals such as the Journal of Business Research, European Journal of Marketing, Journal of Product and Brand Management, Asia Pacific Journal of Management, among others. He also serves as a member of the Editorial Advisory Board to the Journal of the Academy of Marketing Science, Journal of Business Research and Journal of Product and Brand Management.
This will be an interactive session in which Prof. Sharma and Prof. Davcik will use examples from their own research and also allow the participants to share their research and ask questions based on their publishing experience. This seminar is aimed at a broad academic audience but it may be particularly useful for research students and early to mid-career researchers.
The session will be moderated by Prof. Narain Gupta, Operations Management Area, MDI Gurgaon.