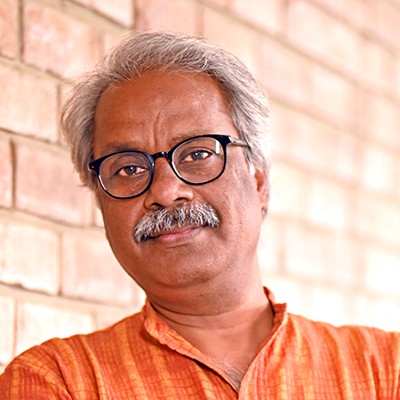 Profile
Prof. Avanish Kumar was selected to deliver the Platinum Jubilee Lecture in the section Anthropology and Behavioural Sciences at the 108th Indian Science Congress in 2023. Prof. Kumar explores questions at the intersection of policies and practice that promote sustainability, inclusion and participation in organisations and society. In his over two decades of experience, he brings experience of working with NGOs, government, corporate houses and academic institutions. Prof. Kumar work revolves around mainstreaming marginalised through citizen centric governance, sustainable models of rural livelihoods/social entrepreneurship and designing corporate social responsible practices to promote sustainable partnership between company-community for long term solutions. The common endeavour in his work is to create operational directions/solutions to real-world problems by bridging theoretical and conceptual understanding in the field. His current research interest is to establish interplay between identity, income and insecurity in the context of empowerment
Before joining Management Development Institute, Gurgaon in 2006, he served as a faculty in TERI University. At Development Alternatives (DA) he undertook several assessments, including Asia Pacific Programme Capacity 21 (UNDP), designed Process Monitoring System for World Food Programme, India and authored chapters in the State of Environment-South Asia (UNEP); Prior to DA, he worked at IPE (Enterprise London School of Economics) and Center for Development Economic, Delhi School of Economics.
He has extensive experience of working with the communities in the poorest areas, especially in Jharkhand, Bihar, Madhya Pradesh, Haryana, Himachal Pradesh, Rajasthan, Orissa and Uttar Pradesh. As a core team member, Prof. Kumar was resource person to Administrative Reform Commission, GoI on "Good Governance in Public Sector"; He was responsible for planning and designing of Mid Career Training (Phase III) of Indian Administrative Services Officers for DoPT with Duke University; he designed Poorest Areas Civil Society Programme (DFID, Phase II). Member Academic Council of Anthropology Without Borders, Indian Anthropological Association to act as the advisory body as well as to review the work from time to time. Dr. Kumar was member Academic Council Advisor to the Public Policy, Law & Governance Programme, Central University of Rajasthan. Currently he is Advisory Member SEEP, BIMTECH Greater Noida; Expert Member of Curriculum Moderation Board (CMB), International Inst. of Democracy & Election Management , Election Commission of India and Board of Academic Studies at TERI University.
Dr. Kumar is jury of 2good4good Corporate Social Responsibility award for Economic Times and KPMG; Resource Person to National Rural Livelihoods Mission, GoI since 2014. He was member board at large of Society for Human Ecology , Washington (2010-11 and 2011-12). He is currently member editorial board of ISTM Journal of Training Research and Governance.
He has delivered lectures at various academic institutes/universities, multilateral organizations, corporate houses, government departments. He has presented papers and chaired sessions in several national/international conferences/seminars in Nepal, Bangladesh, Bhutan, Sri Lanka, Malaysia, Pakistan, and France. He has published and reviewed articles for the leading international journals.
Education
Ph.D. and M. Phil. Dept. of Anthropology, University of Delhi, Delhi
M.Sc. (Social Anthropology) and B.Sc. (H) Anthropology, Hans Raj College, University of Delhi, Delhi.
At MDI, he teaches courses on State and Civil Society; Sustainable Development; Qualitative Methods for Policy Research; Social Conscientization & Corporate Social Responsibility and Business, Society & Government.
Publications
Kumar, Avanish (2022) New education policy: shifting gears toward the future of India. Higher Education Evaluation and Development Vol. 16 No. 2, 2022 pp. 136-139.

Kumar, Avanish (2022) Envisioning Sustainable Development, in ed. Transforming India: Governance for Atmanirbhar Bharat. pp316-325. Publisher: Government of India

Brajesh Mishra and Avanish Kumar (2022) Exploring connectedness between regulatory identity and strategic outcomes', Public Administration Issue , 6, pp. 96-121.

Mahapatro M, Kumar Avanish. Domestic violence, women's health, and the sustainable development goals: integrating global targets, India's national policies, and local responses. J Public Health Policy. 2021 Jun;42(2):298-309. doi: 10.1057/s41271-021-00283-0. . https://pubmed.ncbi.nlm.nih.gov/33972674/
Mahapatro M, Kumar Avanish (2021) Social Production of Stigma and Fear around COVID-19. Ann Psychiatry Ment Health 9(1): 1160. https://www.jscimedcentral.com/Psychiatry/psychiatry-9-1160.pdf
Brajesh Mishra, Jyotsna Bhatnagar and Avanish Kumar, (2020). Saankhya Labs: Compete, Collaborate, or Disappear?" Ivey Publishing
Avanish Kumar, (2019) "Citizen-centric model of governmental entrepreneurship: Transforming public service management for the empowerment of marginalized women", Transforming Government: People, Process and Policy, https://doi.org/10.1108/TG-03-2018-0023
Avanish Kumar (2019): Negotiating income and identity in cities: a case of ethnic migrants living beyond slum in India, Asian Ethnicity https://doi.org/10.1080/14631369.2019.1575717
Surabhi Gupta and Avanish Kumar (2018). Social license to operate: A review of the literature and a future research agenda, Social Business, Volume 8, Number 2, Summer 2018, pp. 187-203(17) http://dx.doi.org/10.1362/204440818X15333820366450
Avanish Kumar and M. Mahapatro. (2017) Community-based qualitative health research: negotiating ethics in India. Quality and Quantity, Springer
https://doi.org/10.1007/s11135-017-0548-x
Avanish Kumar (2017) Beyond Toilets and Targets: Sanitation Mission in India Development in Practice. Vol.27 (3). pp.408-413.https://doi.org/10.1080/09614524.2017.1290050
Avanish Kumar (2016) Does microfinance redefine identity, income, and insecurity among rural women? A model of women's empowerment Enterprise Development and Microfinance, UK, Vol 27 (3) pp 192-203 https://doi.org/10.3362/1755-1986.2016.016
Avanish Kumar (2016) Governance in the 21st Century: Shifting Goal Post in the Edited book Emerging Themes in Strategy. Mac Graw Hill Education
Meerambika Mahapatro and Avanish Kumar (2016) Between Culture of Empowerment and Entitlement: A Case of Domestic Violence in India. Women Empowerment and Inclusive Growth (Eds) S. Garg, R.Kothari, A. Sharma. pp 34-53. RBSA Publisher, India
Avanish Kumar and Vishal Narain (2014) Public Policy and Governance in India. Vision, Sage,18 (4):257-260 https://doi.org/10.1177/0972262914555815
Avanish Kumar (2013). Women entrepreneurs in a masculine society: an inclusive strategy for sustainable outcomes. International journal of organizational analysis. Emerald, Vol. 21.2013, 3,p.373-384 https://doi.org/10.1108/IJOA-01-20130636
Avanish Kumar (2013) Enabling Partnership for Sustainable Development: Policy Prescriptions, Poverty Predicaments, and Business Practices Economic Review, Sri Lanka, 39: 65-68
Avanish Kumar and Meerambika Mahapatro (2013). The cutting edge in the blunt space: An anthropological construct of auxiliary nurse midwives' social world in the community. Healthcare in Low-resource Settings, 2013, Vol.1(1) https://doi.org/10.4081/hls.2013.e10
Avanish Kumar (2010). Participative Approach for Inclusive Development: Case Study of Strengthening Civil Society Organisations in 100 Poorest Districts of India, (Eds) Ramesh, V. Nagadevara, Gopal Naik and Anil B. Suraj Urban Infrastructure and Governance. Rutledge, Taylor & Francis, New Delhi
Avanish Kumar and Meerambika Mahapatro (2010). The narrator and the Narrative: Understanding Scientific Realism of Chronic Diseases in the Field (Eds) by Arima Mishra, Health, Illness, and Medicine: Ethnographic Readings Orient Swain Publication, New Delhi.
Avanish Kumar and Yogesh Baweja (2010). Emerging Challenges of Civil Society Organisation and Corporate Partnership: A Critique. Jharkhand Journal of Development and Management Studies Vol. 8 (XXXI) 3861-3882.
Meerambika Mahapatro and Avanish Kumar and (2009). Maternal Death among a Schedule Tribe: Learning's from the Grassroots. Indian Anthropologist
Avanish Kumar (2004). Issues and Themes in Anthropology :A dilemma of Treatment and Efficacy in Issues and Themes in Anthropology Edi by V K Srivastava and Manoj Singh , Palika Prakashan, New Delhi.
Avanish Kumar (2003). People of the Carts: A case of Gaduliya Lohars " in Understanding People of India: Anthropological Insight Edi by Dr. A.K.Kala and Dr. D.K. Bhattacharya, Pub by Department of Anthropology, Delhi
Avanish Kumar (2000). Ethnomedical Profile of Gaddies." in Health, Healers, and Healing: Studies in Medical Anthropology Edt. by Dr. Sarthak Sengupta, Pub by N.L. Publishers, Assam
Magazine/Newspaper (Column)
Kumar, Avanish (2022) Mahamana's vision of education was 100 years ahead of time. Revisiting Madan Mohan Malviya's legacy in the context of National Education Policy. Governance Now, December
Kumar, Avanish (2020) Between Nation And Notion Of Self Reliant: Aatma Nirbhar Bharat In A Globalized World, Businessworld
Kumar, Avanish (2020). Crossing Over The Lockdown: Rise Of E-Mohalla Sabha At The Time Of Crisis, Businessworld
Kumar, Avanish (2020). COVID-19 Containment And Confinement: Turning Lives And Livelihoods Of Migrant, Business Standard
Kumar, Avanish (2020) Diseases And Development Beyond Corona Pandemic: The Irreversible Policy Opportunity For Rural India, Businessworld
Kumar, Avanish (2020) . Art of winning: Management lessons from Delhi election. Financial Express, 24 February.
Avanish Kumar (2018). Towards Edu Revolution. Pioneer, 14, February.
Avanish Kumar (2016) The political anatomy of Modi's surgical strike, Governance Now, December
Avanish Kumar (2016) Odd of policy process Governance Now, October.
Avanish Kumar (2015) The Role of NGO and the electoral politics Governance Now, October.
Avanish Kumar (2016) Breaking the Bureaucratic Divide in conversation with Debameeta Bhattacharya, The Statesman
Avanish. (2016). Real-time policymaking in conversation with Geetu Vaid, The Tribune
Avanish Kumar (2015). The Politics of Nirbhaya, Governance Now Feb.
Avanish Kumar (2014). The Rise and Fall of Aam Aadmi. Governance Now, Feb.
Avanish Kumar (201 3). Redefining Aam Aadmi Governance Now, December.
Avanish Kumar (2012. Building Castle out of Caste. Pioneer, New Delhi
Avanish Kumar & Prasad Rohit. (2008). Inclusive growth via SHGs & telcos. Economic Times, New Delhi
Avanish Kumar (2001). Ethno-Science of Sustainable Rural Livelihoods. Development Alternatives Vol 11 No 2.
Avanish Kumar & Sanjay Vashist. (2001) Social Assessment of Rehabilitation & Resettlement: A Case Study of Baranj Coal Mining Project Development Alternatives.Vol 11 No 5.
Avanish Kumar, L. Coutinho & M. Mahapatro. 1997. The Blood, The International Newsletter on HIV/AIDS Prevention and Care- AIDS Section, Asia Pacific edition, Hain publication, Issue 34, January-March.
Invited Lecture/Paper Presentation (Recent)
Social Entrepreneurship and Women's Empowerment at Social Innovation and Entrepreneurship, University of Delhi, Delhi
Policy Responses to Social & Spatial Exclusion at the University of Delhi organized by Dept. of Anthropology, New Delhi
Roundtable on emerging role of Think Tank in India at India Policy Foundation, New Delhi
Public Policy and Higher Education at Utkal University Odisha.
Integrity and 21st Centre Governance at Sardar Patel Indian Police Academy, Hyderabad organized by CVC, New Delhi
Tribes and Forest: Integrated and Inclusive Approach at India Gandhi Forest Academy for Forest Officers, Dehradun.
Public Policy and 21st Century Governance at ISTM, DoPT organized by ISTM for CSS officers, New Delhi
Rural Livelihoods and Empowerment among Primitive Tribe of Jharkhand at JSLPS – Jharkhand State Livelihood Promotion Society, Ranchi
Public Policy and Governance for IAS officers at IILM, New Delhi
Rural Livelihoods and Women's Empowerment at Ford Foundation, New Delhi, IIM Udaipur, XIMB, Bhubaneswar, and World Bank, New Delhi,
Corporate Social Responsibility: Measurement and Monitoring at BIMTECH, Greater Noida
Sustainable Development: Policy and Practice for foreign delegates organized by BIMTECH, Greater Noida and TERI University, New Delhi
Corporate Social Responsibility: Visioning Future at Adani Foundation, Ahmadabad; Environment and Social Responsibility at Cairn Energy, Gurgaon; NHPC, New Delhi, Indian Oil, Gurgaon, Development Alternatives, New Delhi.
Swach Bharat Abhiyan: A sustainable approach, National Conference of NGOs and Panchayat leaders, SEHGAL Foundation, Gurgaon 25 years of Anthropology: A critical review, University of Delhi, Delhi
Enabling Partnership for Sustainable Development: Policy Prescriptions, Poverty Predicaments & Business Practices Making Sustainability the Next Metric: the Post-2015 Development Agenda, Colombo, Sri Lanka
Revisiting South Asia- Examining Sustainable Political, Economic and Social Development in the Region, December, IDRC/SDPI, Islamabad, Pakistan
Mainstreaming the Marginalized: Role of Governance in Promoting Inclusive Development and Social Transformation in Bihar, presented at International University at Dhaka, Bangladesh. Conference on Governance and Public Service Transformation in South Asia, organized by UN, BRAC UNDP, Bangladesh
Tribes, Livelihoods, and resources: A Policy analysis of Spatially Excluded Communication in India" at International Conference on Building Livelihood resilience in changing climate at Kuala Lumpur, Malaysia IDRC, WetLand International, Malaysia
Problems and Prospects of Shared Vision for South Asia Towards Collective Action Among the CSOs at South Asia Policy Forum at Kathmandu, Nepal, World Bank/CANSA Nepal
Shared EnVision: South Asia Alternative EnVision Framework, Social SAARC/Climate Action Network, Bhutan.
Convergence and Divergence in Forest and Tribal Policies in India, Fifth Annual Conference on Public Policy and Management (CPPM 8th), IIM Bangalore
Inclusive Development Insinuation for Policies, People and Profit, FIDIC Conference, New Delhi, Consulting Engineering Services, Vigyan Bhawan
Projects
Eco-Village Development (DIB, Denmark) : As a Principle Investigator designed and evaluated projects Eco-Village development on local climate solutions for a poor community in India (INSEDA), Bangladesh (Grameen), Nepal (CRT Nepal), and Sri Lanka (IDEA).
Bihar Models of Livelihoods Promotion Study: Understanding women's empowerment in JEEViKA (Supported by Ford Foundation, New Delhi): As a principle investigator designed and conducted the study. The findings of the study illustrate conceptualization of rural women's empowerment as a new paradigm of increase in identity and income with decline in insecurity. A five day training programme on livelihoods and leadership was conducted to senior decision makers of National Rural Livelihoods Mission and State Rural Livelihoods Missions.
Climate Action Network South Asia (CANSA): As a Principle Investigator designed and conducted a network assessment of 108 CSOs (NGOs) working across South Asia (India, Pakistan, Bangladesh, Nepal, Bhutan & Sri Lanka) on Climate Change and Development.
Delhi Power Company Ltd (DPCL), New Delhi: As a Co-Project investigator designed and conducted an impact study of Delhi Power Sector for Delhi Government.
HREDA, Department of Renewal Energy, Government of Haryana: As a co-investigator designed and conducted an impact study of policy initiative for the Government of Haryana
ILFS Education: As a principle investigator did the assessment of effective public Services for UP Academy for Administration and Management, Uttar Pradesh and Decentralised Governance: Panchayati Raj Module Development for Haryana Institute of Rural Development.
Poorest Areas Civil society Programme (PACS -2), DFID India: As a member of the core team, designed one of the largest civil society programme funded by DFID India for DFID, India.
Poorest Areas Civil society Programme (DFID India): As a management consultant was responsible for the evaluation of project management and coordination. Responsible for coordinating capacity building initiatives for the CSOs partners (500 CSOs) and in designing Monitoring Evaluation and Learning System (MEAL) for the programme.
Sustainable Development: Challenge for Action and Accountability – A South Asian Strategy Paper for WSSD: As a core team member, responsible for identification of policy issues and community based successful models for replication to develop strategy paper for sustainable management of local resources in South Asia.
Evaluating Capacity 21 Support to Countries of Asia Pacific Region (UNDP) As a core team member evaluated the agenda 21 implementations of 14 Asia Pacific countries in the region on Capacity 21 programme.
State of the Environment (SoE) - South Asia 2000 (UNEP): As a lead author contributed to Food Security and Culture & Demographic transition in South Asia.
State of the Environment (SoE) - South Asia 2000 (UNEP): As a lead author contributed two chapters on Demographic Trends in South Asia and Food Security in South Asia.
Multi-Stakeholder Assessment of Agenda 21 Implementation Strategy of India (Earth Council) As a core team member responsible for overall co-ordinations of a series of consultations across the country and also developed the final report.
Assessment of community participation component in the Core House Construction Programme, Aashraya, Orissa (CARE India): As a core team member designed and evaluated the resettlement and rehabilitation project. The recommendations were incorporated into a similar project on rehabilitation and reconstruction in Gujarat.
Social Action Component in India Brick Project (Swiss Development Corporation –India): As a core team member responsible for future strategic intervention to strengthen traditional eco-friendly knowledge and skills in brick making.
Process Monitoring System for the India Country Programme (Tribal Development, World Food Programme, India): As a core team member developed an effective and practical Process Monitoring System for WFP for five States of India.
Water Sanitation programme , JPS Associates (Netherlands Funded Project): As a core management team coordinated with Jal Nigam, UP and implementation water and sanitation programme in the district of Unnao and Muradabad, Uttar Pradesh.
Sulabh International Social Service Org., New Delhi. Edited and researched on the encyclopaedia on Sanitation for Sulabh Publication.
American Institute of Indian Studies (World Bank assisted project): As a core team member along with the doctors carried out social and health impact assessment of the rehabilitation and resettlement of NTPC programme in MP and UP.