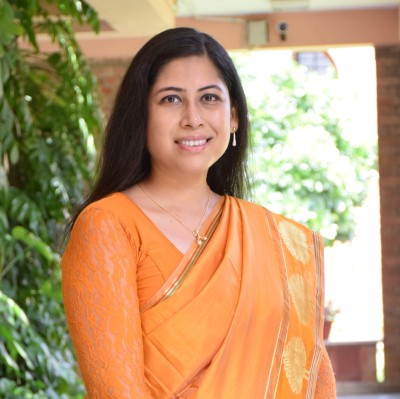 Profile
Dr Bhandari has over 18 years of training and teaching experience. As a Communication professional, she has worked with Indian Institute of Management (IIM) – Ahmedabad, ICFAI and Central University of Rajasthan. Dr Bhandari has successfully attempted at complete Revamping, designing and initiating Business Communication credit and audit courses for various institutes.
A first divisioner throughout her education and a Gold Medalist in Graduation, she completed her Doctorate in 2006 on Merit Research Scholarship from her University. She was awarded National Scholarship by the Ministry of Education and Youth Services, Govt. of India for her excellence in studies in the year 2002 and by the Ministry of Human Resources and Development, Dept of Education, Govt. of India for two consecutive years in the year 1997.
She has published and presented research papers at various National and International conferences in India and abroad including the one at King's College, London-UK in 2010; Academy of Marketing Conference, 2010 at Coventry – UK; 6th Asian Business Research Conference in Bangkok-Thailand, 2013 and another one on Sustainable touristic practices at Bali-Indonesia, 2014.
She has also organized many Faculty Development Workshops (FDP/FDW) for her fraternity.
Dr Niva is a trained Learning and Development Professional and a practitioner of Revised Bloom's Taxonomy. Dr Bhandari is a facilitator for Executive Training programmes on a gamut of topics on Verbal, Non-Verbal & Written Business Communication, motivation building among employees along with many other topics of Soft Skills & Managerial Importance. She has delivered Training sessions for companies of repute like Engineers Project India Limited (EPIL), National Thermal Power Corporation (NTPC), National Hydroelectric Power Corp. Ltd. (NHPC), Border Security Forces (BSF), Indian Farmers Fertilizer Cooperative Limited (IFFCO), Kajaria Ceramics, PVR Cinemas, ICICI Bank, Deutsche Bank, Netambitt, Bharat Heavy Electronics Limited (BHEL), HHEC, Polyplex Corporation Pvt. Ltd., The Hotel Centaur, Anglo-eastern Marine Services - Indonesia, National Fertilizers Limited (NFL), and few more.
She has conducted Managerial Development Programmes on topics Such as Spoken Business Communication, Written Business Correspondence (E-Mails/letters/reports/proposals), Non-Verbal Communication, Presentation Skills & Body Language, Business/Corporate Etiquettes, Gender Sensitivity, including men and women at work, Critical Thinking, Time Management, Stress Management, Positive Attitude, Emotional Intelligence, Conflict and Crisis Resolution at Workplace, Organizational Leadership, Team-Building and Interpersonal Relations, Motivating employees, Employee engagement, Effective People Management Strategies, Decision-Making and Problem-Solving Techniques At Managerial Level, Team and Organizational Culture & Other relevant Topics.
For her participants in Management Development programmes, Dr. Niva Bhandari uses a combination of Management and Simulation Games, Case-Based Industry Learning and Relevant Fun based exercises to drive home the importance of how communication strategies should be evolved, ensuring that each training-activity is relevant, in terms of application beyond the training premises and actual transferability to future situations at the workplace. She uses and role plays. Through a combination of Group Discussions, mentoring exercises and Role Plays, experiential learning is imparted to the participants thus ensuring training-retention for the employees.
For her trainings she has received appreciation honours from Bharat Heavy Electronics Limited (BHEL), Deutsche Bank, Hotel Centaur and NetAmbitt Infosource.
She is also a Certified Occupational Personality Questionnaire (OPQ) Assessor.
Editorial board member of UPES International Management Journal, UPES Management Review (UMR), UPES Dehradun
Editorial Board: Journal of Women Society for Academic Research, Bharatpur, Rajasthan.
Reviewer: International Journals of Multidisciplinary Research Academy
Funded Consultancy Project: Translation and Transcription of the documented writings and video recordings on ethnographic subjects,of Padam Bhushan recipient, Late Shri Komal Kothari now open for exhibition at The 'Museum of the Desert', funded by The Ford Foundation and The National Folklore Support Centre, Chennai.