Atmanirbhar Bharat is about India engaging with rest of world: Sanjeev Sanyal
June 27, 2022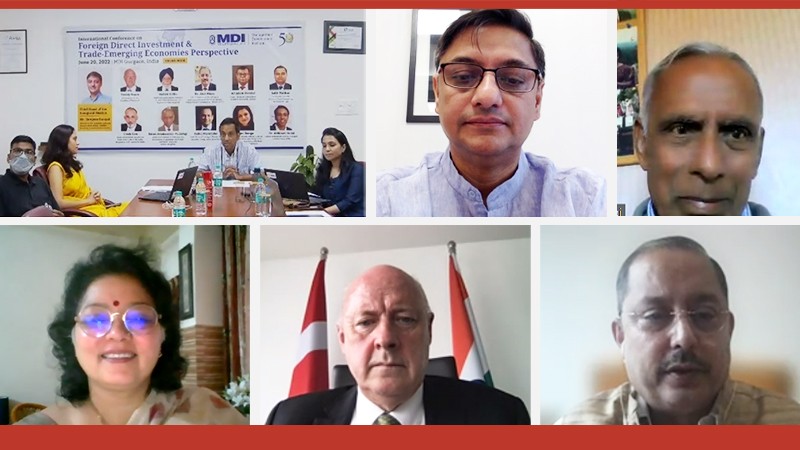 GURUGRAM: Atmanirbhar Bharat is about India engaging with the rest of the world, according to Sanjeev Sanyal, Member of the Prime Minister's Economic Advisory Council.
"Atmanirbhar Bharat is not about isolationism," Sanyal said while addressing as the chief guest an international conference on "Foreign Direct Investment & Trade – Emerging Economies Perspective" organised by MDI Gurgaon on online mode June 20. "We want to engage with the rest of the world. But we will do it on our terms."
He said that Atmanirbhar Bharat should be seen in the context of a post-Covid world where resilience is an important thing.

"We want to be the manufacturing base of the world," Sanyal said. "This is the context in which we want to encourage FDI (foreign direct investment) in India."
He also stressed on upgrading India's patenting office.
"The number of personnel in our patenting office has gone up from 300 a few years ago to 850 today," Sanyal said. "China has 13,000 people in their patenting office. We need to have 3,000-4,000 people more in India."
Speaking on the occasion, MDI Gurgaon Director Dr Rajesh Chakrabarti said that there is a significant outbound FDI from Indian corporates and described it as "something positive".
"To attract FDI, we need to make the destination attractive," Chakrabarti said. "Economic policy and removal of regulatory hindrances are most important."
Addressing the conference, Freddy Svanne, Ambassador of Denmark to India,
Said that India's growth trajectory is good.
"You have a young population," Svanne said. "You will be a global provider of many services in the near future."
He emphasised that transparency and accountability are the fundamentals of ease of doing business.
"There is no future for this planet without India," the Danish Ambassador said. "But you have to walk the talk."
Dr Alok Misra, CEO and Director, Microfinance Institutions Network, and Professor of Public Policy & Governance at MDI Gurgaon, said that India's share in global GDP is 3.2 percent.
"But in FDI, India's share is around 7 percent," Dr Mishra said.

Citing a Kearney report in 2022 that lists 25 countries for investments, Lalit Mathur, Co-founder and CEO of DCirrus Cloud Computing Services, said that while the US is at the top of that list, India does not figure at all.
"Only and only government can create the environment for foreign direct investments into India," Mathur said.
Raman Sidhu of the Institute of Chartered Accountants of England and Wales reminded the participants that all investors look for safety.
"That is the fundamental right for any investor," Sidhu said.
Balasubramanyam Vudayagi, Emeritus Professor of Development Economics at Lancaster University, England, highlighted how Indians living abroad are playing an important role in India's economy.
"India receives $80 billion in remittances each year," Vudayagi said.
Sharing a PowerPoint presentation, Rahul Mazumdar, Assistant General of Research & Analysis Group at India Exim Bank, said that India's merchandise exports in financial year 2022 stood at $422 billion, a 45 percent growth year-on-year.
"Merchandise imports in financial year 2022 was of $612 billion, a 55.2 percent growth," Mazumdar stated. "India's services exports recovered by 21.4 percent in financial year 2022."
Prof. Parul Gupta and Prof. Leena Ajit Kaushal of MDI Gurgaon moderated the conference.