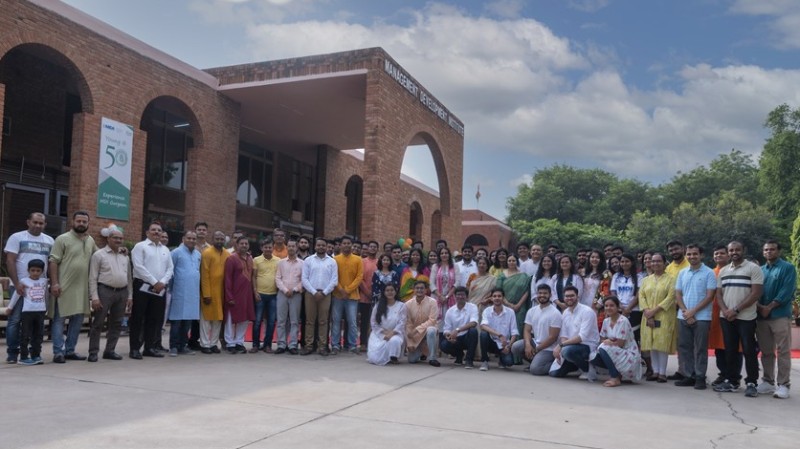 77th Independence Day celebration
August 15, 2023 | 07:30-11:00 AM
MDI Gurgaon proudly gathered on the vibrant morning of the 77th Independence Day, celebrating the essence of India's journey toward liberty and unity. The ceremony commenced with the solemn unfurling of the tricolor, symbolizing the unbreakable spirit of our nation.
Amidst patriotic fervor, our Acting Director, Prof. Sangeeta Shah Bhardwaj took the podium, weaving a narrative that intertwined history and hope. With eloquence, she addressed the assembly, emphasizing the significance of embracing the virtues of dedication and courage, epitomized by the guardians of our nation. She beckoned us to celebrate advancements in science, technology, and arts in management and embark on a journey of self-reliance. She urged us to look inward, reflecting on the principles that have propelled us forward. She also reminded us of the sacrifices that have shaped our present, honoring the valor of those who fought for our freedom. Yet, even as we commemorated triumphant milestones like the lunar mission, the recent tragedy of a landslide served as a poignant reminder of the fragility of life. The address called upon us to protect our environment, ensuring the availability of clean drinking water, fertile land, and a sustainable habitat for future generations.
After the address, professors and students were encouraged to share their thoughts on the Independence Day celebration. This was followed by enthralling performances by Sanskriti, MDI Gurgaon's cultural club. The drama vertical, Mukhautey, and the musical vertical, Mandolins, captivated the audience with their artistic flair.
With hearts full of pride, dedication, and responsibility, the MDI family concluded the event by distributing sweets and capturing memories.