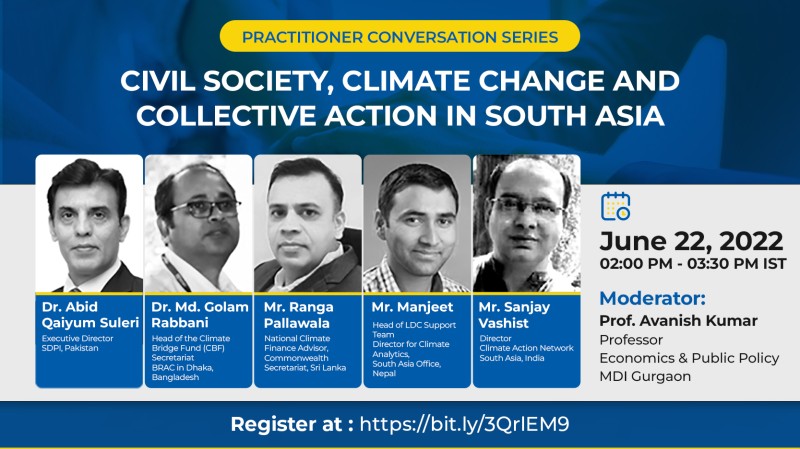 Civil Society, Climate Change and Collective Action in South Asia
June 22, 2022 | 02:00-03:30 PM
In the past two-and-a-half decades, more than half of all South Asians, approximately 750 million people, have been affected by at least one natural disaster. South Asia is home to more than 600 million of the worlds absolute poor, who will be one of the most vulnerable to the negative impacts of climate change (World Bank). According to ILO, with the advent of the Covid-19 pandemic, many of the risks have been magnified in both rural and urban areas, particularly in the informal economy.
As a result, every country in South Asia is grappling with its national implications and the effects of locally experienced climate variability affecting the lives of millions. One of the key debates in the civil society revolves around "how to collectively meet the local, national and regional challenges".
In this connection, MDI Gurgaon will be organising a Practitioner Conversation Series event themed "Civil Society, Climate Change and Collective Action in South Asia". The event is aimed at developing an understanding of the role of civil society organisations in advocating for policies and practices that have the potential to create a cohesive and complementary strategy.
The following will be the panelists:
Dr. Abid Qaiyum Suleri, Executive Director, SDPI, Pakistan
Dr. Md. Golam Rabbani, Head of the Climate Bridge Fund (CBF) Secretariat, BRAC in Dhaka, Bangladesh
Mr. Ranga Pallawala, National Climate Finance Advisor, Commonwealth Secretariat, Sri Lanka
Mr. Manjeet, Head of LDC Support Team, Director for Climate Analytics, South Asia Office, Nepal
Mr. Sanjay Vashist, Director, Climate Action Network South Asia, India
Prof. Avanish Kumar, Economics and Public Policy Area, MDI Gurgaon, will be the moderator.
Date: June 22, 2022
Time: 02:00 PM IST
Registration Link: https://bit.ly/3xHfgI9