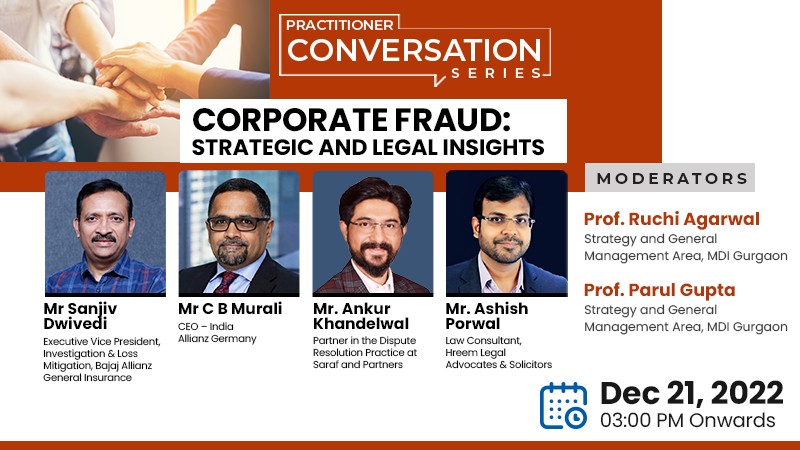 Corporate Fraud: Strategic and Legal Insights
December 21, 2022 | 03:00 PM
In the next Practitioner Conversation Series to be held on December 21, 2022 the speakers will share their thoughts on the topic 'Corporate Fraud: Strategic and Legal Insights'.
Rising Corporate Fraud is a global phenomenon as it dwells in all countries and impacts all types of organizations irrespective of size. The fraud triangle defines a theory behind how fraudsters have perceived committing fraud, exploited opportunities and rationalised. Worldwide, companies are losing from 5% to 10% of revenue due to various types of fraud. From a strategic viewpoint, fraud is impacting the bottom line of the company. Reputation loss is another significant reason why fraud should be controlled. There is an increase in external pressure on companies for fraud control, such as regulators and professional agencies issuing guidelines to control fraud. Early warning signals can help corporate lenders by detecting prospective fraud and alerting them in advance. However, fraud prevention is not a one-time process. It requires constant monitoring and updating of the system to keep up with changes in the environment.
The general regulatory framework and The Companies Act, 2013 in particular have undergone a sea change in the recent past. This requires the corporate entities to have a relook at the legal responsibilities and also the criminal liabilities of different functionaries and Key Managerial Persons. Despite all the efforts at regulatory and organizational level, several large corporations booked losses or were on the verge of closure due to rising fraud. Several pertinent questions seek the attention of scholars and experts; What are the ways to detect corporate fraud and how fraud prevention improves organizational performance?, How to detect and identify the minutes revenue loss to a company and put in place procedures to deal with it? How to plan coherently, construct and evaluate processes within the extant legal framework relevant to the companies through the scrutiny of new legislation?
The session will be held in online mode from 03:00 PM onwards and will be moderated by Prof. Ruchi Agarwal and Prof. Parul Gupta from the Strategy and General Management Area, MDI Gurgaon.
Link to join the session: https://zoom.us/j/7760519857?pwd=WG9ZRVcyR2JSSzJsdVcrcXo3YlhFdz09