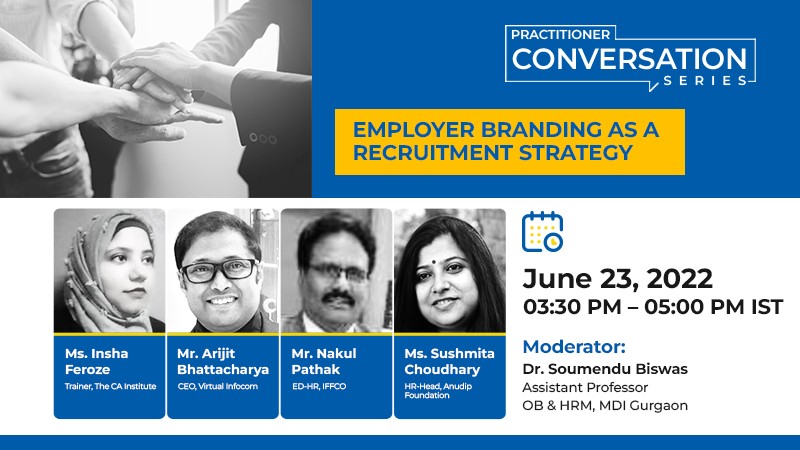 Employer Branding as a Recruitment Strategy
June 23, 2022 | 03:30-09:30 PM
Employer branding refers to the opinion(s) that an organization's current and potential employees has/have about it. It is about conveying the values and beliefs of the organization to set the right expectations about the organization's culture and ethos. To its external stakeholders, which include potential employees, an organization as an employer brand mirrors its position as an employer of choice by getting its unique employee value proposition across.
Branding, traditionally, has been a term coined to sell products and services and has been used extensively as a practice and a strategy in Marketing Management in general and Sales and Distribution Management in particular. Of late, it has been used extensively by human resources (HR) theoreticians and practitioners. To the theoretician, the appeal of employer branding lies in the way various resource theories can be applied to understand how employer brand works. And, to the practitioner, the concept offers a valuable way of communicating its recruitment policy by presenting its respective organization as trustworthy and committed to employee development.
In this connection, MDI Gurgaon is organizing a Practitioner Conversation Series event on the theme "Employer Branding as a Recruitment Strategy". The session will provide a glimpse into how industry practitioners view this concept of 'employer branding' in the light of the overall competitive advantage provided by their human resources, how it affects reducing recruitment costs, and attracting talented personnel who intend to stay and grow with the organization.
The panelists for the session are:
· Insha Feroze, Trainer, The CA Institute
· Arijit Bhattacharya, CEO, Virtual Infocom
· Nakul Pathak, ED-HR, IFFCO
· Sushmita Choudhary, HR-Head, Anudip Foundation
Prof. Soumendu Biswas, Assistant Professor in the Organizational Behavior & Human Resource Management Area, will be the moderator of the session.
Date: June 23, 2022
Time: 3:30 PM
Register at https://bit.ly/3y7dfGu