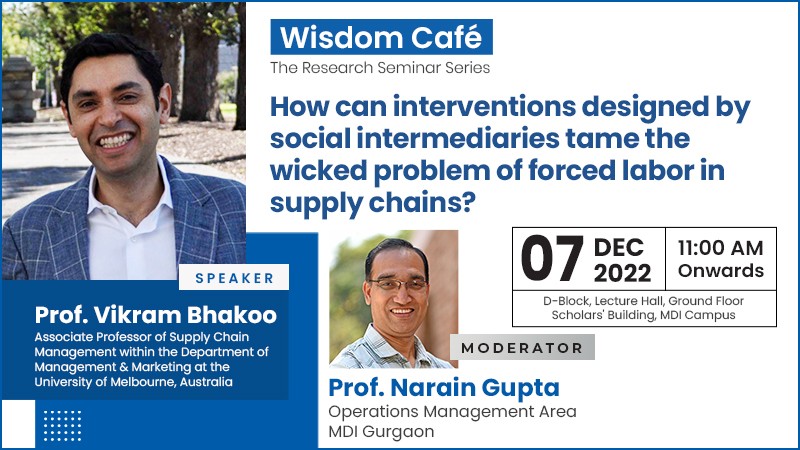 How can interventions designed by social intermediaries tame the wicked problem of forced labor in supply chains?
December 07, 2022 | 11:00 AM
In the next edition of MDI Gurgaon's Wisdom Café, we will hear Dr. Vikram Bhakoo sharing thoughts on the topic "How can interventions designed by social intermediaries tame the wicked problem of forced labor in supply chains?"
Dr. Vikram Bhakoo is an Associate Professor of Supply Chain Management within the Department of Management & Marketing at the University of Melbourne, Australia. His core domain of interest is supply chain management where he focuses on two key themes: technology and innovation management and sustainability. He has researched these topics across a wide range of industries including textiles, seafood, consumer electronics and healthcare. His current research within the sustainability domain seeks to develop a better understanding of the consequences of modern slavery legislations and mechanisms for mitigating it.
He is currently the Associate Editor for Journal of Supply Chain Management & International Journal of Logistics Management. In addition, he also serves on the editorial review boards of Journal of Operations Management, Decision Sciences and Organizational Research Methods. His research agenda continues to draw support from the Australian Research Council and the University of Melbourne.
Topic Brief:
Forced labor is one of the wicked problems of our time and poses a significant risk in global supply chains. Its hidden nature leads to the failure of conventional buyer-led governance approaches, such as monitoring and auditing. In this presentation, I zone into the role that social intermediary (SIs), such as NGOs and worker rights organizations, can play in mitigating forced labor in global supply chains. SIs can play a more active role when they design and lead interventions that help vulnerable workers to claim their rights and thereby alleviate occurrences of forced labor. However, as SIs are external to supply chains, they need to build legitimate power with employer firms and migrant workers so that these interventions can be effective. Based on a multiple case study of three SIs collaborating with one global seafood brand in Thailand to combat forced labor in their operations and supply chains, this study identifies several distinct sources of legitimate power of SIs. With respect to focal firms, the sources are: endorsement by influential referents, autonomy from the focal firm, and recognized forced labor expertise; and with respect to workers, the sources are: embeddedness in migrant worker communities and the building of goodwill trust with them. By dissecting the sources of power that bolster the legitimate position of SIs with the focal firm and workers, we contribute to the emerging debate on forced labor in supply chains and how it could be addressed beyond compliance-based supply chain governance.
The seminar will be held on December 07, 2022 I 11:00 AM onwards at D Block, Lecture Hall, Ground Floor, Scholar's Building and shall be moderated by Prof. Narain Gupta, Operations Management Area, MDI Gurgaon.