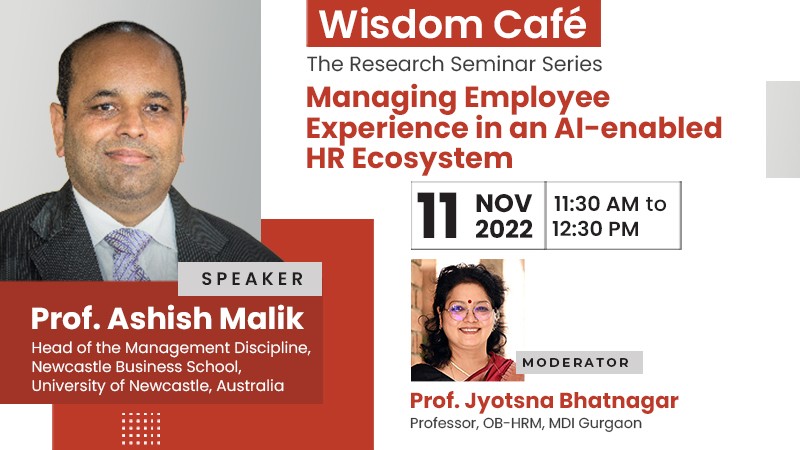 Managing Employee Experience in an AI-enabled HR Ecosystem
November 11, 2022 | 11:30 AM
In the next edition of MDI Gurgaon's Wisdom Café, Prof. Ashish Malik, Head of the Management Discipline, Newcastle Business School, University of Newcastle, Australia will speak on the topic "Managing Employee Experience in an AI-enabled HR Ecosystem".
Analyzing multiple data sources from a global information technology (IT) consulting multinational enterprise (MNE), this research unpacks the configuration of a digitalized HR ecosystem of artificial intelligence (AI)-assisted human resource management (HRM) applications and HR platforms.
This study develops a novel theoretical framework mapping the nature and purpose of a digitalized AI-assisted HR ecosystem for delivering exceptional employee experience (EX), an antecedent to employee engagement (EE). Employing the theoretical lenses of EX, EE, AI-mediated social exchange, and engagement platforms, this study's overarching aim of this article is to establish how AI-assisted HRM fits into an organization's ecosystem and, second, how it impacts EX and EE.
Date: 11 Nov 2022
Time: 11:30 AM onwards
Register Now
Session Joining Link: https://bit.ly/3E2is5e