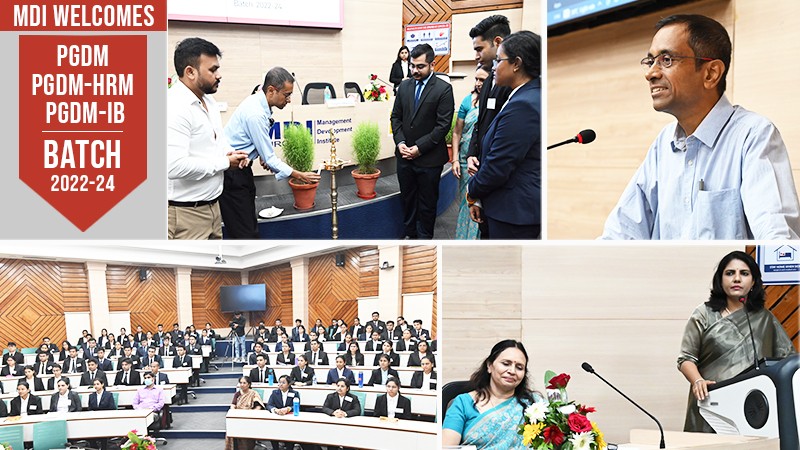 MDI welcomes PGDM/ PGDM-HRM/ PGDM-IB 2022-24 Batch
July 25, 2022 | 09:30-06:00 PM
MDI Gurgaon on July 25 started the on-campus induction process of its 2022-24 batches of the Post Graduate Diploma in Management (PGDM), Post Graduate Diploma in Management – Human Resource Management (PGDM-HRM) and Post Graduate Diploma in Management – International Business (PGDM-IB) programmes.

Dr. Rajesh Chakrabarti, Director, MDI Gurgaon, and Dr. Sangeeta Shah Bharadwaj, Dean, Graduate Programmes, welcomed the new students at the inaugural ceremony.
The inaugural address was delivered by Mrs. Rohini Singh, Senior Global Operating Leader, Global Delivery Head, Genpact, and an MDI Gurgaon alumnus.

In her speech, Mrs. Singh urged each student to think of herself or himself as a brand.

"When people will look at you, they will think about what does this person stand for," she said. She advised the new students to be in touch with their peer groups and build these relationships over the next two years.

"Your learning journey is continuous. It never ends. Keep yourself future-proof," Mrs. Singh said.
In his interaction with the students, Dr. Chakrabarti said that they should learn to "cut a stone, sculpt a statue, and build a temple".

"Your earning of respective diplomas will be excruciating," he said. "We will push you and you should push yourself to give your very best.".

Speaking on the occasion, Dr. Bharadwaj advised the students to take the help of career counsellors and keep networking within themselves. "We will keep a check on you," she said. "You also should keep a watch on each other ethically."