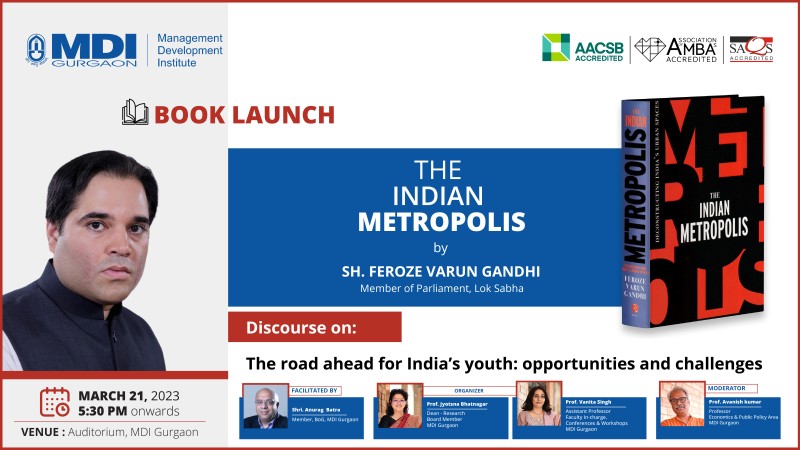 The Indian Metropolis: Deconstructing India's Urban Spaces - Book Launch Event
March 21, 2023 | 05:30 PM
MDI Gurgaon is privileged to host the launch of a book by Mr. Feroze Varun Gandhi, BJP MP, titled - "The Indian Metropolis: Deconstructing India's Urban Spaces". In this book, Mr. Gandhi dives deeper into the challenges of urban India, including, unsettling past few years, spiraling prices of food, rent, & transport, deteriorating law & order, and wraths of climate change as experienced by most Indian cities. He stresses on the need to rethink the design and management of urban spaces. This book accentuates issues of the poor quality of life among city dwellers and suggests ways to improve the same.
The event is facilitated by Mr. Anurag Batra (MDI, Board Member) and organized by Prof. Jyotsna Bhatnagar (Dean - Research & BoG Member, MDI Gurgaon) and Prof. Vanita Singh (Lead - Conferences and Workshops) from MDI Gurgaon.
Date & Time: 21 March 2023 ; 5:30 PM onwards
Venue: Auditorium
After a formal book launch, a talk is scheduled wherein Mr. Gandhi will engage with MDI students to discuss and deliberate on - "The road ahead for India's youth: Opportunities and Challenges". This talk will be moderated by Prof. Avanish Kumar, MDI Gurgaon.