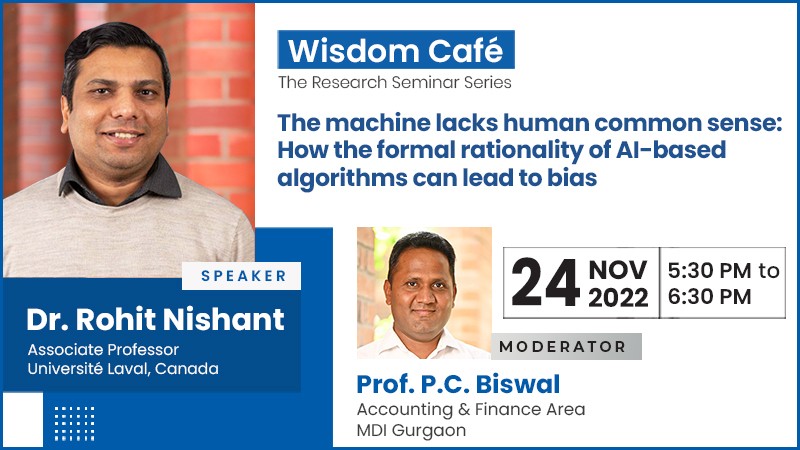 The machine lacks human common sense: How the formal rationality of AI-based algorithms can lead to bias
November 24, 2022 | 05:30 PM
In the next edition of MDI Gurgaon's Wisdom Café, Dr. Rohit Nishant, Associate Professor, Universite Laval, Canada will share his thoughts on the topic "The machine lacks human common sense: How the formal rationality of AI-based algorithms can lead to bias".
This paper offers a new perspective on artificial intelligence (AI)-driven bias by uncovering the fundamental difference between #AI and human rationality in making sense of data. Extant research shows poor AI-based decision-making results from software engineers; bounded rationality and hidden bias in the data fed to #algorithms. However, the crucial role of algorithmic rationality in producing bias has not been addressed. The study provides empirically grounded insights into the rationality-based causes of AIs role in the occurrence of bias and poor decisions, even when data is generated in a largely bias-free context.
The session will be moderated by Prof. P. C. Biswal, Accounting & Finance Area, MDI Gurgaon.
Date: 24 Nov 2022
Time: 05:30 PM onwards
Registration Link: https://forms.gle/c1K4WcxZ2JZ1ErTW6