Director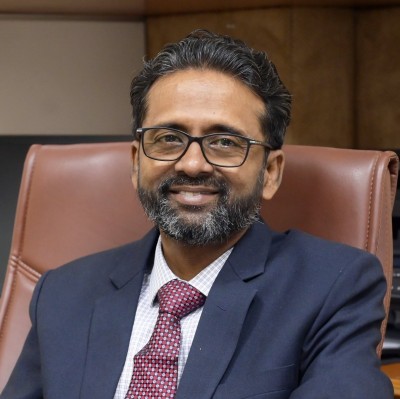 Prof. Arvind Sahay
Director, MDI Gurgaon
Professor Sahay joined MDI as Director and Professor of Marketing and International Business in October 2023. Prior to MDI, he served as faculty at the Indian Institute of Management Ahmedabad (from 2004) and at London Business School (from 1996) since his Ph.D. in 1996 from the University of Texas at Austin.
His primary areas of interest include marketing strategy, pricing, neuroscience and consumer behavior, brand management, high tech marketing, and international trade and investment. Sectorally, he has consulted and done work in pharmaceuticals, cement, building materials, telecom, broadcast, automotive, IT, FMCG, education and financial services sectors among others. At the Indian Institute of Management, Ahmedabad, he has taught the basic marketing courses on the PGP, PGPX and PGP-PMP programs. In addition, he taught elective courses on pricing, brand management, neuroscience and consumer behavior, tracking organizational performance, brand management and valuation, innovation and fintech. His executive education and consulting clients come primarily from the financial services, pharmaceutical, building materials conglomerates, automotive, FMCG, retail and media sectors. His teaching ratings are consistently in the 9/10 range. He has lead the IIMA executive education programs on pricing, neuroscience in marketing, enhancing salesforce performance, fintech and Applications of Behavioral Science for CXOs.
His corporate experience includes stints as a management trainee in the manufacturing sector and as a customer service and then account manager in the financial services industry. He has consulted and done corporate training for more than 50 clients in India and abroad. He has written 34 international peer reviewed articles, 65 cases and more than 50 articles for business magazines and newspapers. A recent project was for FSSAI where a nationwide RCT of front of package label (FOPL) study was done with a view to establish which format was more effective in the Indian population. This was published in Food Quality and Preference in 2023. His second book - on "Brands and the Brain" – was published in April 2022. His latest publications in 2023 are on the "Neural Correlates of Weak Brand Choice" and the "Decision between Gifts and Promotions in Consumer Choice."
Professor Sahay is the recipient of the University Wide Outstanding Dissertation Award from the University of Texas at Austin (for his Ph.D thesis), the Innovation in Teaching Award at London Business School and of the Dewang Mehta Best Teacher Award in Marketing Management and the UTV Bloomberg Best Marketing Professor in India. He was also nominated to the Thinkers50 India list by the Institute of Competitiveness, Harvard Business School. He is also the winner of the Philip Morris Best Case Award at IIMA.
Before joining MDI, Gurgaon, Professor Sahay has served in different administrative and leadership roles such as:
Chairperson (Executive Education) where he increased the ARR from INR 67 crores to 92 crores
Chairperson (Marketing Area) where he was able to pilot offers to 7 faculty members in 2 years
Chairperson (PGPX), where he was a member of the founding team and led the placements for 2 years and made the program FT ranking ready
Chairperson (Web site Committee), where he led the development of the Institute's first comprehensive website
Dean (Alumni and External Relations) where he raised more than 130 crores for IIMA
Chairperson (India Gold Policy Center) where he contributed to the setting up of India International Bullion Exchange in GIFT City
Founding Chairperson (NSE Center for Behavioral Science) where he leads the first of its kind research center at a business school in this part of the world
His recent research has been in the areas of brand relationships, tensile pricing, life cycles in marketing, customer dimensions of gold in India, customer responses to dynamic pricing and how and when to implement dynamic pricing, customer reactions to overlapping price ranges; impact of bundling on customer reference prices; customer loss aversion at different price levels; impact of price changes in pharmaceuticals in India on demand, brand advocacy, and brand preference reversal due to cognitive load and discount framing. His latest papers appear in Journal of Business Research in 2023 (neural correlates of weak brand choice), Journal of Global Marketing" in 2018 (there are limits to quantity changes in FMCG products before customers react ), Resources Policy in 2020 (that gold purchase has strong cultural influences – some of which have led to failure of policy measures like the GMS) and the European Journal of Marketing (2021; on dual brand personalities, Implicit Theories and Word of Mouth). He has earlier been a regular columnist for Outlook Business magazine on marketing strategy and also writes occasionally for the leading Indian business newspapers, Financial Express, and Dainik Bhaskar on gold, economics and business. He is also the author of a case book on marketing strategy called Cases in Pricing, Marketing Communications and Distribution apart from his recent book on Brands and the Brain.
He has been an invited speaker at the Pricex Conference in Chicago, at the BusinessWeek Conference on E-marketing in London, at the annual meetings of All India Management Association in Indore, at the Western Conference of the Confederation of Indian Industry in Ahmedabad, at the CIO Forum, at the India International Gold Convention, at various corporates in India and abroad to their leadership teams and at the Indian Professional Business Network in Qatar. He was the coordinator and lead faculty for IIMA's management development programs on Pricing, Neuroscience in Marketing, Fintech, and Enhancing Salesforce Performance, and Applications of Behavioral Science in Management: A CXO Playbook, the first programs of their kind in India. He has been a member of the FICCI Sub-Committee on Pharmaceuticals. He was a member of the team that developed the Innovation Index for the Pharma industry that is intended for use by the Government of India and the industry to monitor progress in R&D in pharma in India.
Professor Sahay is (and has served) on the board of several listed and unlisted companies. His cumulative boardroom experience is more than 35 years. In his spare time, he engages in trekking, golf, badminton, issues in constitutional law and has played football for his undergraduate institution. Professor Sahay can be contacted at [email protected].
Prof. Arvind Sahay
Ph.D. (University of Texas Austin)
P.G.D.M. (IIM Ahmedabad)
B.Tech. (IIT Kanpur)
Director, MDI Gurgaon
Professor of Marketing and International Business